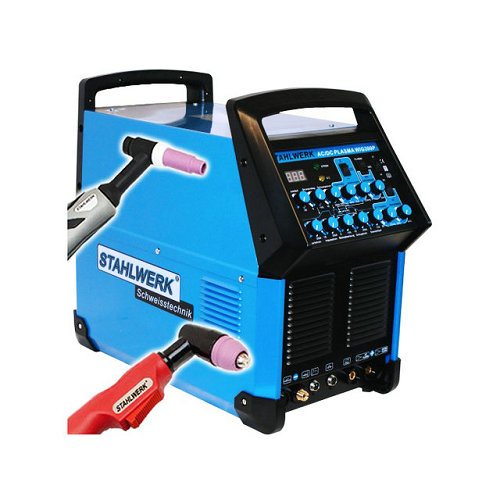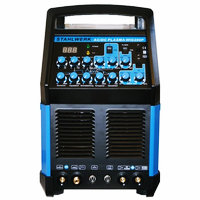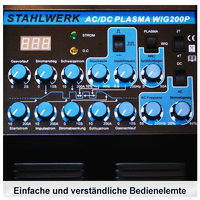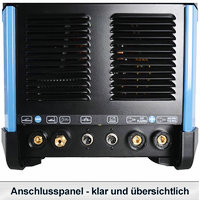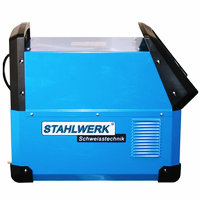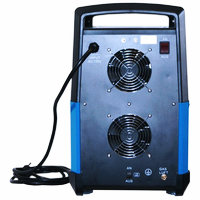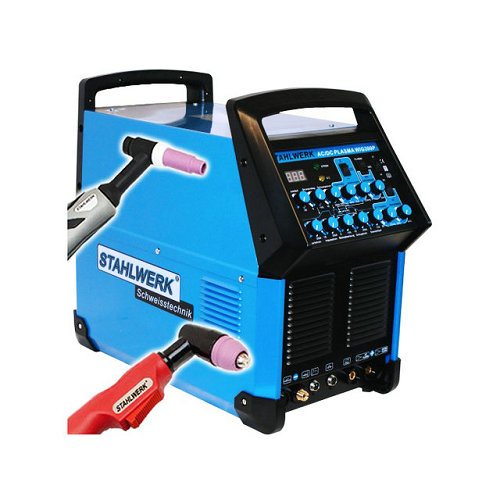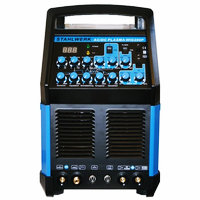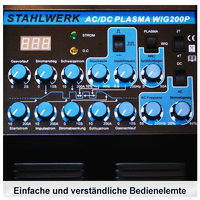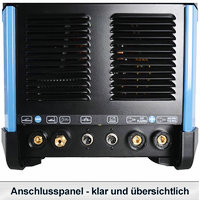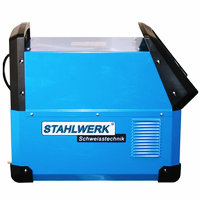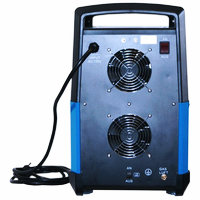 AC/DC 200 TIG Puls with Plasma S
---
AC/DC TIG 200 PULS with PLASMA S offers the highest welding comfort in the vehicle, machinery, plant -and metal tool, with stair and balcony railings, pipes, tanks, appliances, car bodies, etc.
---
Descript of AC/DC 200 TIG Puls with Plasma S
Highest efficiency for all requirements with reproducible welding results and excellent quality through the fully digital inverter welding technology

Easy to understand operating concepts for each choice of particular setting, so you can concentrate fully on your welding task

Through powerful TIG arc - faster, better and easier welding across the entire power range
Intelligent housing design with optimized air exchange
Powerful, high duty cycle of 60% at 200 amps
TIG pulse function increases the welding precision
Quickly cooling ventilator allows a exploitation of maximum power
Volume and weight reduction by high-frequency welding of 100 Khz
Energy saving
TIG welding of 0.8 up to10 mm with consistently high quality
Even thin sheet welding is possible
DC function – DIRECT CURRENT and AC function – ALTERNATING CURRENT
The plasma torch work with a commercial air compressor (about 5, 5 bar)
AC/DC TIG 200 PULS with PLASMA S offers the highest welding comfort in the vehicle, machinery, plant -and metal tool, with stair and balcony railings, pipes, tanks, appliances, car bodies, etc.
Always a clean weld on all workpieces !!!
The newly developed WIG TIG INVERTER series and welding equipment, allows you not only steel, but also un-and low-and high-alloy steels, nickel-based alloys, copper, and special materials and other ferrous metals with DC function (direct current) perfect to weld. For precision welding of cast aluminum components and non-ferrous metals (brass, bronze), AC/DC TIG 200 PULS with PLASMA S is features with an AC function. With the system chip MOSFET (Toshiba) our devices have a high-performance technology that is proven since 1998. The WIG TIG AC/DC 200 PULS with PLASMA includes the most modern, innovative, easy-to-use quality engineering, so even beginners with the TIG welding process work easily.
Compared to conventional welding equipment, the unique HF Inverter technology has many advantages. Smaller volume, reduced weight, continuously variable regulation, energy saving etc.. The application of inverter technology allows a focused and permanent power output. This made an adjustment much more precise and practical. Our welder is working in a tube package with a ball joint and integrated switch (comparable models work with cable ties).
Precision metering with TIG pulse function
The increased arc stability provides better welding precision. Thanks to this pulse functions, you can deeper weld in the workpiece (10 mm) without it ever gets too hot. A burn of the workpiece is prevented and a clean and stable weld is the result.
The pulse function is particularly suited for welding thin plates whose materials may be heated only slightly. Also thin sheets can be welded without burning. During the welding operation for a specified time (depending on the setting), the arc is uploaded with energy and automatically reduced.
Welding with comfort
You can use the TIG AC / DC S-series with a foot pedal, that will allow you a convenient and comfortable welding. The foot pedal and another accessory articles for TIG or plasma devices can be found in the Shop>>>
Consulting - Service - Instruction - Help
You have never TIG welded? Service is a top priority. Each customer has his own personal account manager, who support the customer in the execution of his appointment or assist him for questions and advice. The customer is served during and after the warranty period from us. In case of problems, call us, we are always available. You are also welcome to visit us. Our motivated team will always find a positive solution for you. Take advantage from our services. Everyone is welcome to test our equipment in detail under the guidance of our experts.
---
Important functions & device information at a glance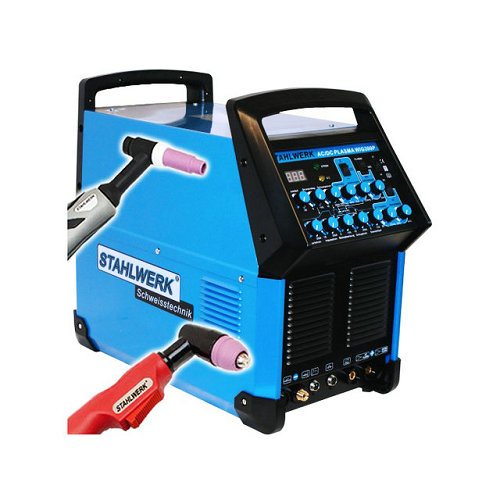 Pulse function: more power without increasing the temperature of the material substantially, preventing the combustion of the workpiece.

2 Stroke and 4 Stroke – circuit: at 2-stroke, the torch button of the TIG tube package has to remain pressed and held. Once the button is released the arc is extinguished. At 4-stroke the arc remains stable after pressing. Only by pressing the torch button the arc is extinguished and the current reduction occurs automatically with the gas-run time. Professional settings in which you achieve results of a quality that impress even the professional user.
Antistick: prevents annealing of the electrode (less consumable electrodes), because the power is immediately terminated.
Hot Start: automatic voltage increase at the start
HF Ignition: high-frequency contactless ignition to the workpiece.
MMA: manual metal arc welding.
TIG tube package with ball joint and with integrated control switch.
Adjustable welding current: adjustable between 0 and 200 A (for pulse mode upper value).
Automatic slow current reduction after switching off the tube package. Adjustable between 0 - 10 seconds (makes a clean finish, there are no blowholes).
Gas preliminary time: important to protect the weld from air supply and to create a gas atmosphere
Gas post flow time: saves the tungsten electrode against excessive wea. and protects the weld from oxidation.
Gas magnetic valve: will open only when pressing the hand torch or the foot pedal and closes when the welding process is completed.
Welding with pulsing: penetrates deeper into the workpiece
Pulse frequency: adjustable between 0,5 - 200 Hz
Pulse current: adjustable between 10 % - 90 %
Pulse intensity of welding current: adjustable between 20% -60%
Spray arc circuit: MMA-Mode (stoving improved, more stable arc)
Automatic cooling ventilators.
Overheating protection: turns on when the device is overloaded. A red control light turns on, and goes off when the device is cooled.
Current shift: only for aluminum welding of importance. AC welding causes a shift of the current to positive or negative wave motion of the current
Integrated Plasma cutter with 50 amp
Cutting power up to 12 mm, depending on material: construction steel ST37 to 12 mm, V2A to 8 mm, Aluminium up to 7-8 mm. These are real data (look at the video).
Very important: Only after you have pressed the switch from the TIG tube or the foot pedal, the amp setting is shown.
Stahlwerk welding equipment is particularly suitable when quality welds are extremely important. Private gardening - motorcycles, cars, trucks, classic cars, model making, stair and balcony railings - or in the professional and industrial sectors such as shipbuilding, aida, metal, metalwork, aircraft, garden, landscaping and welding schools , the highest quality requirements are met successfully with Stahlwerk welding equipment.
---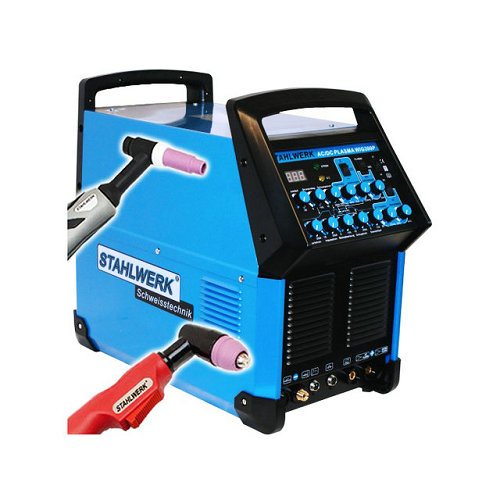 Rated voltage

AC 230 V

Input frequency
50/60 Hz
Input current
20 A
Power capacity
4,5 KVA
Output current
200 A

Display of output current

:


TIG and MMA
0 - 200 A
Plasma Cut
50 A
Working voltage
18 V
Forerun
0-2 Sekunden
AC Output frequency
60Hz
Gas preliminary time
0 - 2 Sekunden
Gas post flow time
0-10 Sekunden
Slow current reduction
0-10 Sekunden
Current shift
10-90%
Arc deflection TIG
HF - Ignition
Load collective TIG
60 % at 200 A
Remote control
Yes: foot pedal
Overcurrent protection
16 A
Efficiency
85%
Output factor
0.93
IIsolation Class
B
Safety class
IP23
Weight
20 kg
Dimensions
493 x 330 x 320 mm
Weld Intensity
10 mm
Cutting power
12 mm
---
Other devices from this product category