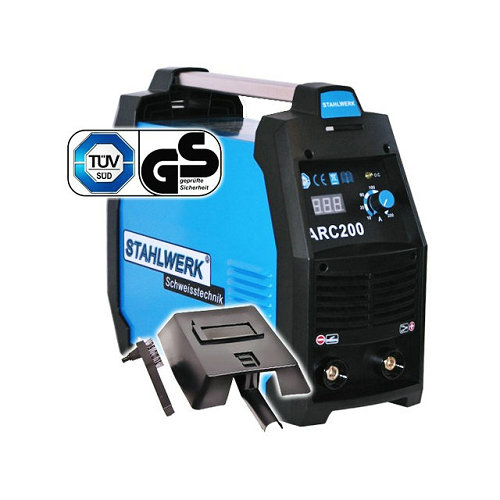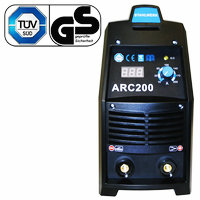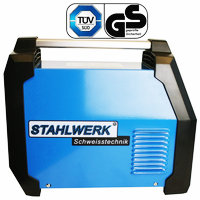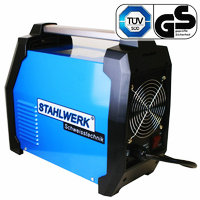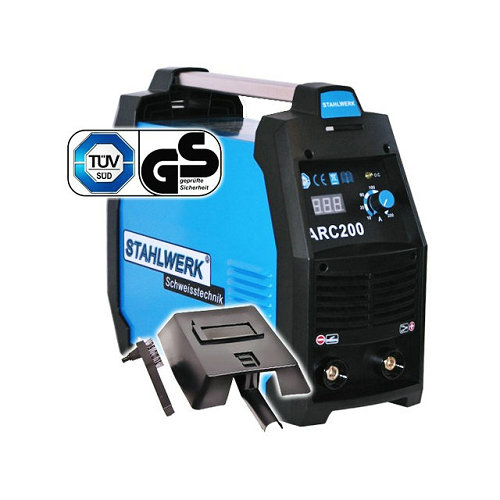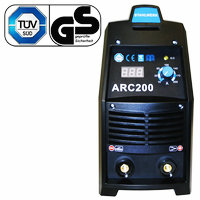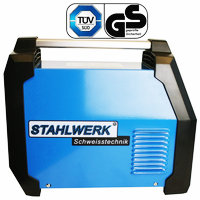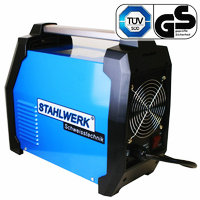 Stahlwerk ARC / MMA / E-HAND 200 S
---
ARC / MMA / MMA 200 S offers the highest welding comfort in vehicles , machinery , equipment tools and metal , with stair and balcony railings , pipelines, vessels, equipment , coachwork or the like
---
Descript of Stahlwerk ARC / MMA / E-HAND 200 S
A PROFESSIONAL DEVICE FOR EVERYDAY USE

CONSTANT PERFECTION
MMA welder with 200 amps
MMA welding with rutile and basic coated electrodes for all unalloyed, low - alloy and high- alloy steels, nickel -based and copper alloys.
Maximum efficiency for all requirements with reproducible welding results and excellent quality.
Digital display .
Easy to understand operating concepts for each setting, either specific , so that you can concentrate fully on your welding task .
Intelligent casing design with optimized air guidance .
Powerful , high duty cycle of 60 % at 200 amps.
Quick fan cooling allows an exploitation of maximum power .
ARC / MMA / MMA 200 S offers the highest welding comfort in vehicles , machinery , equipment tools and metal , with stair and balcony railings , pipelines, vessels, equipment , coachwork or the like
Always a clean weld on all workpieces !
With steel MMA welding equipment they achieve excellent results even under the most adverse weather conditions or is not completely bare weld .
Electric welding offers many advantages. The materials must not be preheated and can be welded directly to the desired positions. To this end, work pieces of different thicknesses can easily connect with each other. Thanks to the high temperature of the arc , even a 10 x 10 mm are welded square steel with a 3 mm plate . Structures and connections that constantly occur in practice , for example in the construction of a railing , in making a fence or in the repair of agricultural machinery. Often heavy U- profiles are to be welded to thinner parts . Electrode welding machines offer a wide range of applications in industry , craft , for home improvement and construction .
Advice - Service - Instruction - help
Each customer has their own personal account manager who stands him in the execution of his order , or for questions , with advice and assistance. A service from which they can see for themselves and benefit personally at any time in the field. You during and after the warranty period we cared . Should problems arise, we are available by phone or for a visit to our house. Our motivated team will always find a positive solution for you. Everyone is welcome to test our equipment in detail under the guidance of our professional staff .
---
Important functions & device information at a glance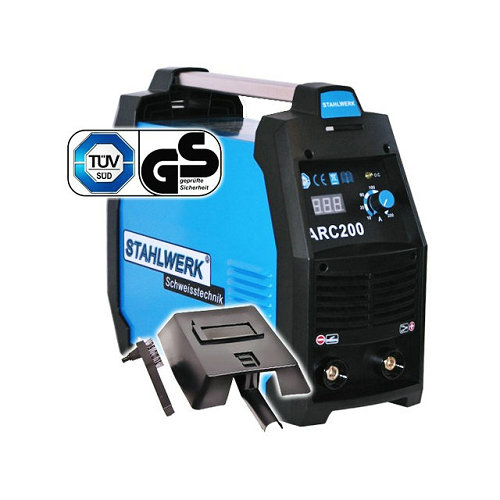 ALL IMPORTANT WELDING PARAMETERS IN DIRECT ACCESS
Steel Mill - faster, better and simpler welding across the entire power range .
Steelworks MMA machines provide the ideal technology for the following welding.
Welding :
normal flat iron - U- profiles.
Structural steel tissues.
4 square steel .
thick sheets .
Angle and T-beams , etc.
What stick electrode types can be used:
Unalloyed steels TYPE R3 , A5 and AR 7
For sheets up to 3 mm electrodes R3 are suitable from a diameter of 1.5 mm, 2.0 mm, 2.5 mm.
stronger materials for electrodes R3 diameter 3.25 mm and 4.00 mm.
V- stitching and the tubes should be welded with electrodes A5 and AR7 .
Features of the device:
Digital display .
Antistick = prevents the overheating of the electrode , because the power is terminated immediately.
Hot Start = automatic voltage boost at the start.
Lift - ignition = in contact with the workpiece.
MMA : Electric welding with 60% duty cycle at 200 amps
Automatic cooling by fan.
Welding of rutile , basic , low and high stick electrode stick electrodes up to 4.2 mm in diameter.
Steel welding machines have a variety of applications . Whether as a hobby - motorcycles, cars , trucks, classic cars, model building, stairs and balcony railing or in the professional and industrial sectors such as Shipbuilding, metal , locksmith services, aircraft , garden , landscaping and welding schools, even the highest quality requirements are successfully met with steel welding equipment.
Perfect for beginners and advanced welders !
Steel welding devices are characterized by simplicity and a high degree of user friendliness. A device that will satisfy any , even the most inexperienced welders will achieve excellent results with this device. Practical and handy .
---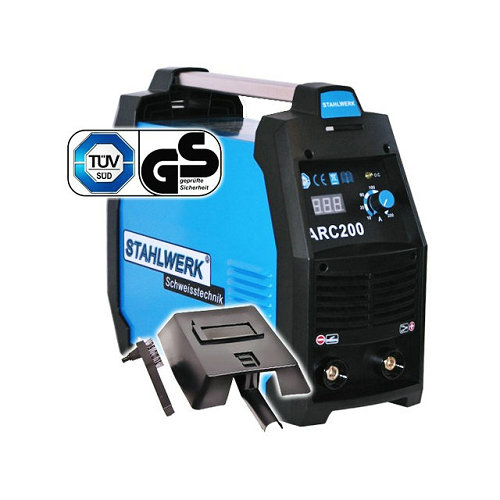 | | |
| --- | --- |
| Anzeige des Ausgangsstroms | 10 ~ 200 A |
| Einschaltdauer bei 200 A | 60% |
| Einschaltdauer bei 150 A | 100% |
| Netzspannung | 230 V AC |
| Netzfrequenz | 50/60 Hz |
| Netzsicherung (Träge) | 16 A |
| Schutzart | IP21 |
| Isolationsklasse | F |
| Gewicht | 8,4 Kg |
| Maße L × B × H (mm) | 395 x 165 x 325 |
| Normen | IEC 60 974-1; CE |
---
Other devices from this product category